Let's see how Facebook earns and makes money. While the website is free, Facebook has to pay some cost coming from servers maintenance, employees...It is thus important to know where Facebook's revenues are coming from :
The biggest part of Facebook's revenue is targeted advertising. In 2013, it's estimated that ads represent 83% of total income. Many companies which want to spread their brand, pay money to Facebook in order to reach their potential customers. These "potential customers" have been found with the data basis of Facebook. Of course, everybody will not see the publicity but only those who fit the criteria fixed by the company before. The targeting is based on gender, age, interest, location, relationship status or whatever. Money is given to Facebook even if these "potential customers" don't click on banners. Facebook has a kind of "bidding" system, an auction and the company which invest more, will reach more easily its target. Advertisers have the choice to pay the CPC (cost per Click) or the CPM (cost per 1000 impressions). Despite of the low click through rate (about 0.05%), advertising brings a lot of money to Facebook because of the huge number of users.

Sponsored groups: these groups are an excellent marketing tool for big companies who want to increase their visibility and try to have a lot of likes and members, which probably means more future sales (the biggest ones invest about 300.000€ for three months)

Mobile advertising has become increasingly important as more Facebook users check their News Feed on their Smartphone and tablets rather than on personal computers.

Application developer : It represents a non negligible source of Facebook's revenues (about 12% of revenues are coming from Zynga). There is a platform on Facebook where people can develop games and application. Developers have to pay the servers to launch their application. This cost can be non negligible if the number of users grows too much (hundred million of users for Zynga). For example, Zynga is a company that develops games and application on Facebook, and also on its personal platform; there are millions of users and some of them pay to have the complete version of the game or virtual goodies. 

Facebook Gifts charged one dollar. it's simple virtual gift that can be offered to friends.
​
The three first points represent advertising on figure so 83% of Facebook's revenues.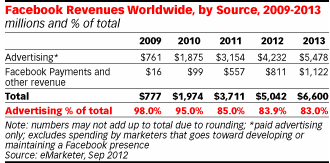 Diversifying our Income
83% of Facebook's revenues are coming from advertising. Let us imagine that most of the large brands stop to pay Facebook to spread their ads because they notice that their targets use ad block or other software to block the advertising so that this advertising campaign become useless and brings no money back to the brand. Why would you continue to pay Facebook if the most of advertising are blocked and don't have any positive impact for your own company?
It is thus important for Facebook to develop a strategy that aims to find another source of revenue.
Our strategy consists in launching a kind of marketplace where people can buy new or used goods and they also can sell their own. Of course Facebook would make money taking commission on every selling.
This strategy targets on the one hand Facebook's loyal users because they reach one billion accounts and everybody is always looking for every kind of stuff. On the other hand some professional people could really find a lot of potential customers on this marketplace. It could still attract people to sign up on Facebook in order to access this marketplace. It already exists groups where a lot of Facebook users buy and sell every kind of things, so we want to gather all of them.
We can also use the very good targeting of Facebook (use of data basis in function of status, pages,..) to propose exactly what customers require. Filters concerning the country, the town, the kind of required object, price... will be present to make a quick search.
In terms of competitor Amazon, eBay and many others has not so much registered members. Besides, the principle is to make life easier for users which will be able to chat with their friends and at the same time looking for their future car, television or something like that while staying on the same website. Taking less commission than other, Facebook could be a terrible competitor on this market because they have already a huge number of loyal clients.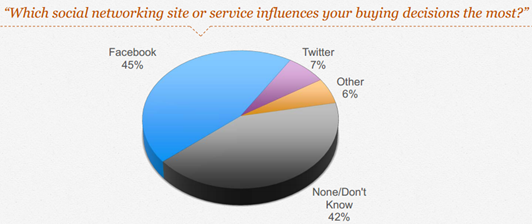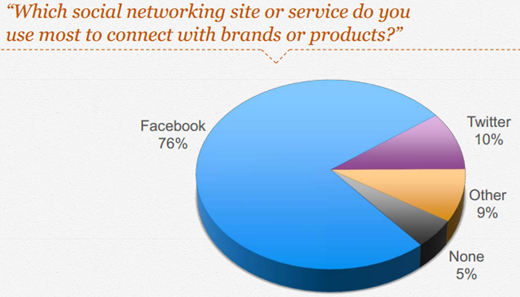 However, we have to keep in mind that launching the Facebook marketplace will mean being a competitor of eBay, Amazon , Walmart in the e-commerce market. As we know, there are many advertisers on Facebook, and among them, eBay is the thirteenth biggest advertiser on Facebook so we have to be careful and analyze the profitability of this idea. Because if we enter in a kind of "battle" with Ebay or Amazon, we can lose revenue coming from these big company which could also be very affected by this and lose more money.
Concerning our communication policy, we will inform in the newsfeed and propose the marketplace to every Facebook's member. Besides, to attract more professional persons, we will distribute flyers in several selling company or maybe an advertising on TV. So, the total cost of this campaign is not so high because we just have to pay the server and maybe an awareness campaign. We have already many clients which are users and could be very interesting by this buy/selling strategy.   
Main Advertisers
With the development of a new device the biggest advertisers must adapt their partnership with Facebook.
New facts are become important to consider:
Facebook Ads increase in effectiveness
18.5% increase in Click Through Rates (CTR) across 5 major markets from Q2 to Q3 2011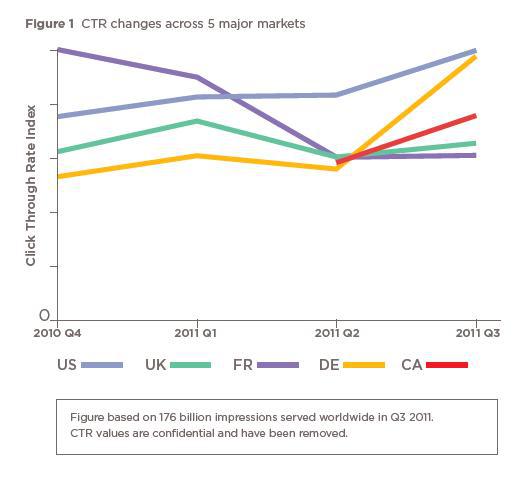 Facebook earns more per Impression whilst Cost per Click Rates fall for Advertisers
Cost Per Click (CPC) decreases by 10.8% across 5 major markets between Q2 and Q3 2011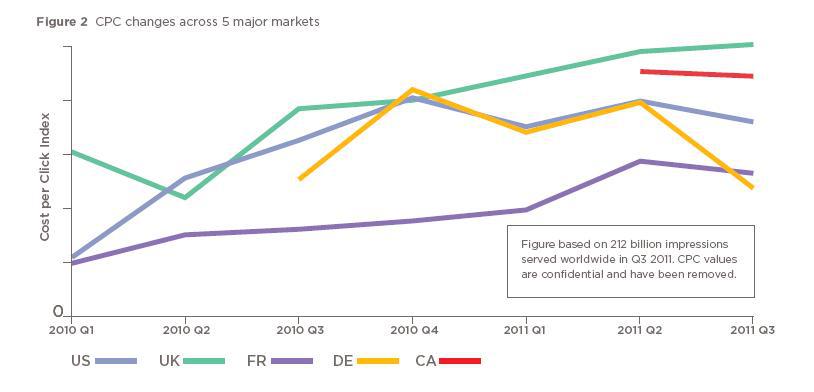 Brand Advertising continues growth
Brand campaign market share increases from 47% in Q2 to 53.7% in Q3 2011
Brands and Keywords are biggest influence on the performance of Brand (Fanning) campaigns
(Source: TBG Digital's Global Facebook Advertising Report for Q2 2012)
Top Advertisers
| | |
| --- | --- |
| 1 | Zynga |
| 4 | P&G |
| 7 | Experian |
| 10 | Microsoft |
| 13 | eBay |
| 16 | Samsung |
| 19 | L'Oréal |
| 22 | JPMORGAN CHASE |
| 25 | MasterCard |
| 29 | HSBC |

| | |
| --- | --- |
| 2 | Fab.com |
| 5 | AT&T |
| 8 | Groupon |
| 11 | Google |
| 14 | Unilever |
| 17 | Dell |
| 20 | Starbuck |
| 23 | Turner |
| 26 | Visa |
| 27 | McDonald |
| 30 | Ford |

| | |
| --- | --- |
| 3 | Electronics Art |
| 6 | American Express |
| 9 | Walmart |
| 12 | Verizon |
| 15 | Nestlé |
| 18 | Disney |
| 21 | Citi Bank |
| 24 | Nike |
| 28 | AB-Inbev |
Top 30 Worldwide Advertisers on Facebook Source: http://www.businessinsider.com/
Definitions
Click Through Rates (CTR): A way of measuring the success of an online advertising campaign for a particular website as well as the effectiveness of an e-mail campaign by the number of users that clicked on a specific link.
Cost Per Click (CPC): is an internet advertising model used to direct traffic to website in which advertisers pay the publisher when the ad is clicked.
Cost Per Thousand (CPM): is commonly used measurement in advertising. It is used as benchmark to calculate the relative cost of an advertising campaign or an ad message in given medium like radio television and recently in social network.
Fanning: Persuading Facebook users to like brand pages